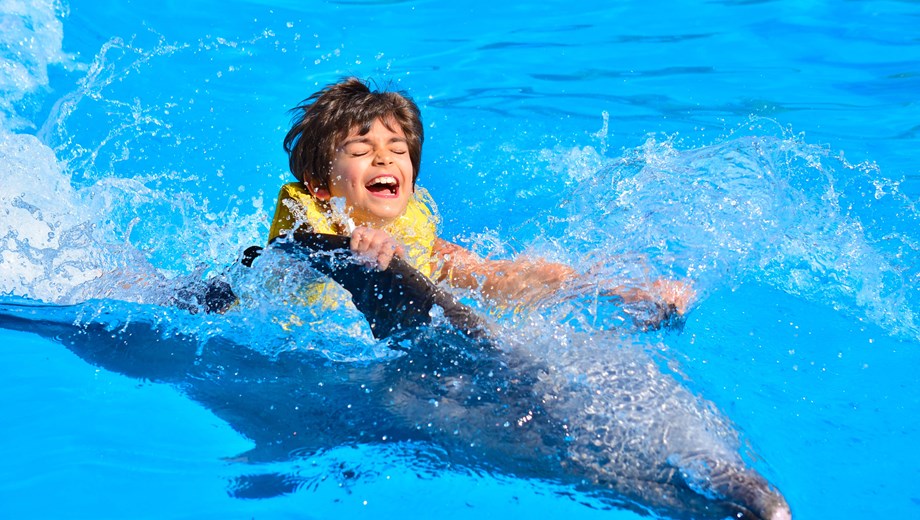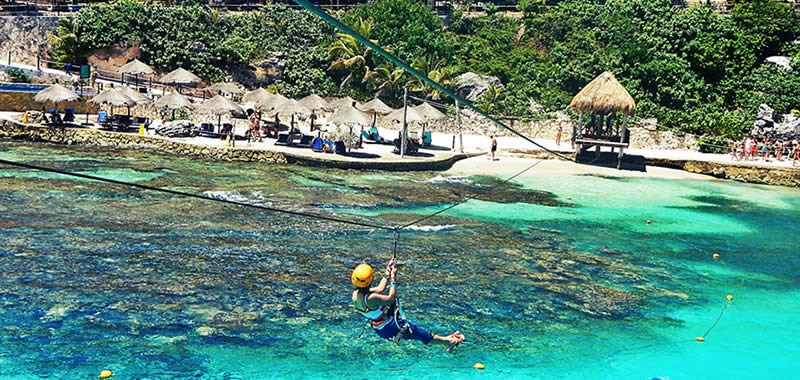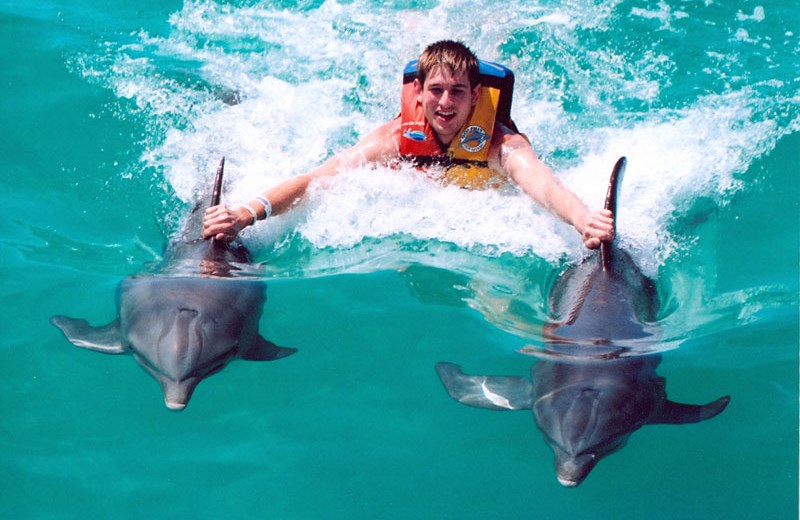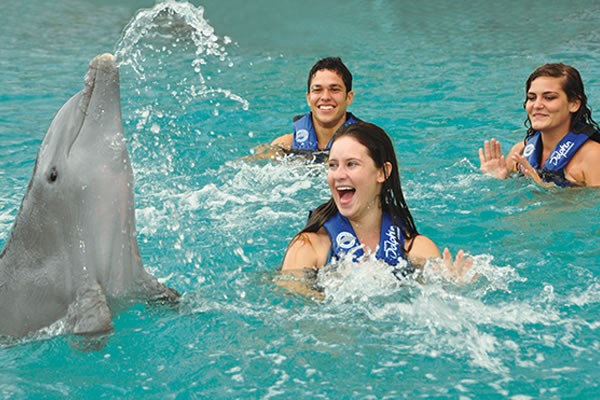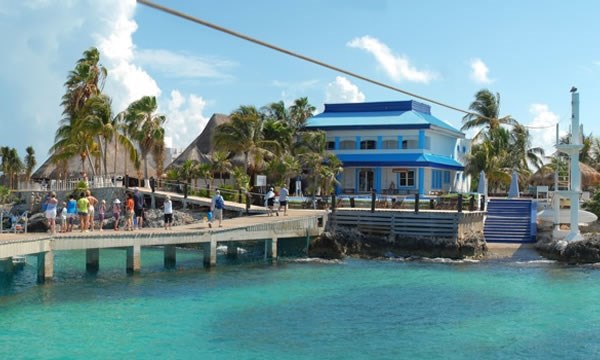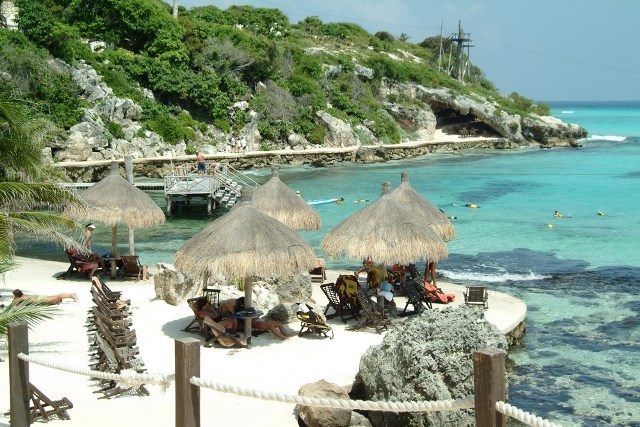 Features
Friendly with:





Activity Length
alarm 1 hours
What is this about?
Come to Dolphin Discovery-Isla Mujeres and let the excitement overtake you with this fantastic opportunity! Enjoy the beauty that only an idyllic Isla Mujeres can offer; it is an island full of life and energy, surrounded by fantastic turquoise crystal-clear waters where you can find and explore beautiful and colorful coral reefs, as well as many types of animal, including one of the most intelligent and beloved marine mammals species around the world, dolphins! You'll definitely have the best dolphin experience!

Be amazed and touched by one of the most wonderful experiences in the world, swimming with dolphins! With this joyous activity, you can touch, caress, hug and even kiss this friendly creature in its natural habitat. In addition, you get to ride its belly on the wonderful Caribbean sea, but there's more! You also get to experience an exciting boogie push!
We also invite you to discover and experience the amusing Garrafon Natural Reef Park! This park is known for its natural beauty; it is located in the heart of Isla Mujeres, and once you get to do some of the thrilling activities this park has to offer, we are sure that it will be in your heart as well! At this fantastic park you can practice snorkel or kayak, you can also swim in a refreshing pool, or if you prefer it, lay back on our relaxing hammocks and get a well-deserved rest.
After these amazing activities, you can enjoy a delicious buffet menu and choose from a variety of exquisite dishes and desserts. To quench your thirst, remember to drink one of our many refreshing beverages from our national open bar.

Visit us now and enjoy what could be one of the best experiences of your life!
What is included?
Ferry CUN-IM-CUN
(If you are staying in Puerto Juarez, please contact our Call Center).
15 min briefing.
50 min in the water.
Access to Garrafon Natural Reef Park.
Access to Punta Sur.
Amenities: lockers, showers, lounge chairs, hammocks, pool.
Buffet lunch and national open bar at Garrafon Natural Reef Park.
Zipline ride, snorkel equipment, kayak and temazcal at Garrafon Natural Reef Park (if available).

DOLPHIN BEHAVIORS
Belly Ride
Boogie push
Hug
Handshake
Hand target
Kiss

NOT INCLUDED
Dock fee of 13 USD payable at check-in.
Children over 3.3 ft pay dock fee.
Ground transportation of $16.00 USD.
Meals and beverages at Dolphin Discovery Isla Mujeres (only available at Garrafon Park).
Other activities in Cancun or Isla Mujeres.
Photos of your experience with the dolphins.
Share your Experience
This activity has not been ranked yet. Be the first to share your experience.

Add a Review Now!

Prices
Adult Royal Garrafon + Swim Adventure (13 - 99 years)
Child Royal Garrafon + Swim Adventure (6 - 12 years)
Notes
Don't include infants under 3.3 ft in your reservation as they are free of charge; however, be sure to add them in the comments section of your reservation.
***All participants must be at least 3.9 to perform the snorkel activities.
IMPORTANT: currently, we are NOT accepting US dollars in cash at our facilities (check-in, restaurant, boutique, and photos), however, we accept Mexican pesos in cash. If you want to use an international credit or debit card, payments will be done in Mexican or US currency.
Restrictions
Children over 4.6 ft will be allowed to participate alone in any of our dolphin programs by paying the adult rate.
To participate in the Swim Adventure or Royal Swim programs, children over 3.9 ft up to 4.6 ft must be accompanied by a paying adult (1 adult per kid).
To participate in the Swim Adventure or Royal Swim programs, children over 3.3 ft and up to 3.9 ft must be accompanied by two paying adults (2 adults per kid).
>Children under 3.3 ft will be considered infants and will perform Encounter activities regardless of the program in which they participate (it is a requirement that they fit the vest).
For security reasons, the use of cameras in the water is prohibited. Professional photos will be available for sale.
In this program at Isla Mujeres, the maximum number of people per group is 12 to ensure a better experience.
The use of life jackets is mandatory in all water programs.
Recommendations
Bring towels and cash for taxis, shopping, meals, etc.
For safety reasons, expectant mothers of 5 months or more can't participate in any of our aquatic programs. However, expectant mothers of less than 5 months can only participate in the Encounter program if accompanied by another adult and after signing a waiver.
If you have any health or physical problem, please contact our call center before booking your reservation so we can provide you with full information about our services.
It is important to arrive 30 minutes before your program, remember you'll receive a short briefing before your swim.
Remember to use biodegradable sunscreen to protect your skin, the environment, and marine species.