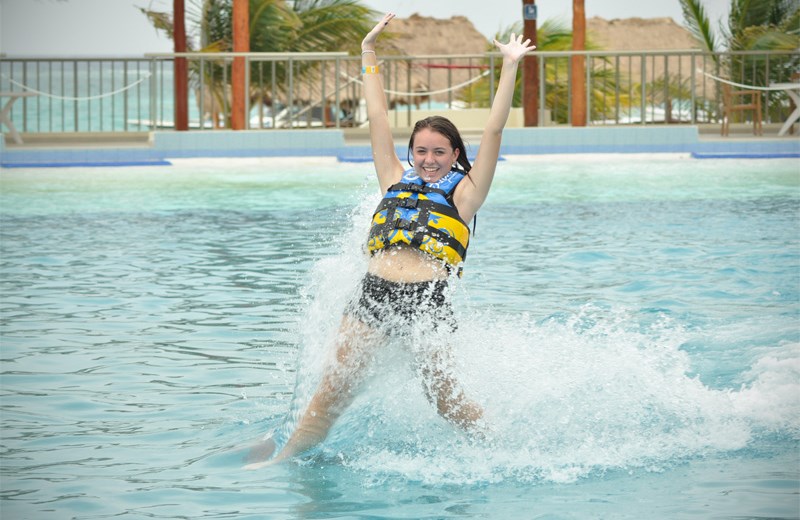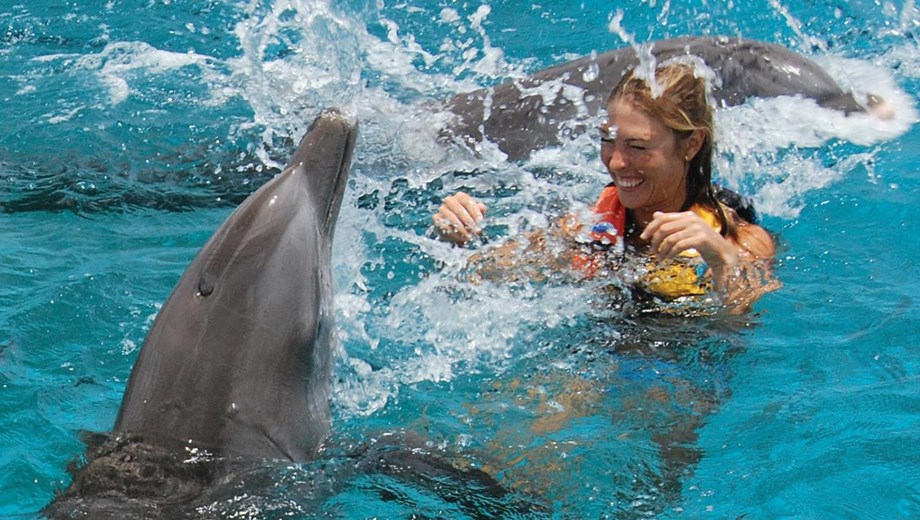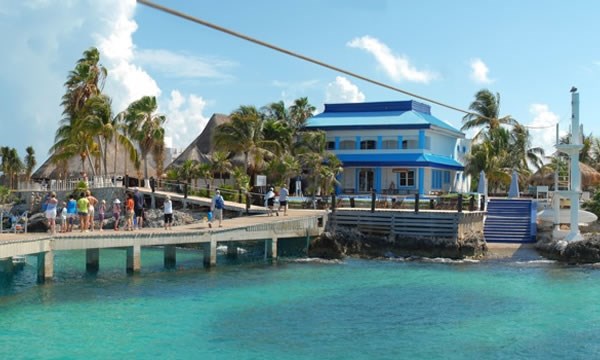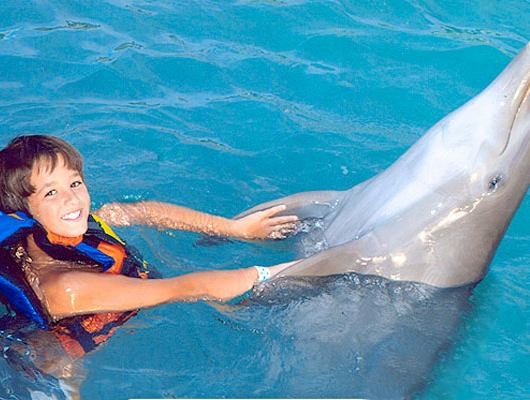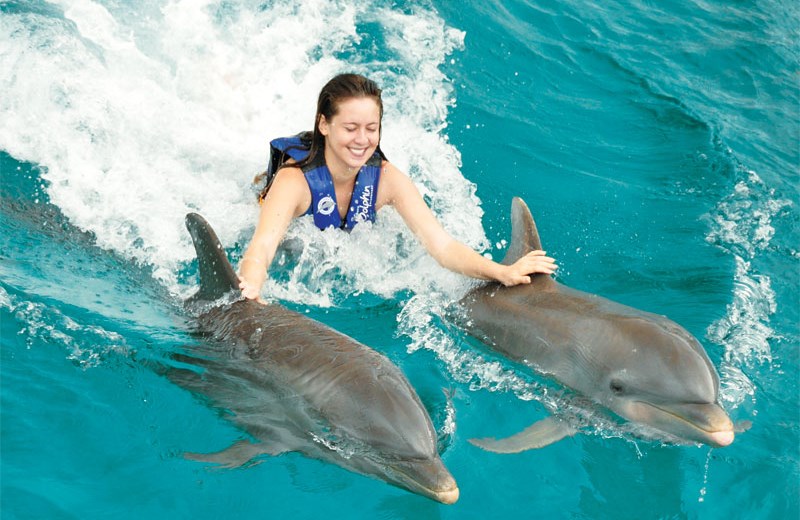 Features
Friendly with:





Activity Length
alarm 1 hours
What is this about?
Welcome to the beautiful and amazing island of Isla Mujeres, Cancun! Here you can find the Dolphin Discovery-Isla Mujeres facilities where you get to perform the unforgettable experience of swimming with dolphins! You also get the chance to enjoy the wondrous Garrafon Natural Reef Park. This park allows you to carry out both relaxing and exciting activities.

This amazing experience begins at Playa Langosta where you take a ferry that heads for the island. Aboard, you can enjoy the view of a turquoise sea that reaches out to the horizon, as well as eating a light continental breakfast that will give you energy for the adventure ahead. The fun starts once you have arrived at Dolphin Discovery-Isla Mujeres. Here, dolphins are waiting for you to play and share a charming time together in order to give you the best dolphin experience.
The Royal Swim program allows you to have the fullest experience with our friendly dolphins; this means touching, caressing, hugging and even kissing these adorable creatures. But that's not all! The fun continues when two dolphins pull you through the water with their dorsal fins and push you from your feet to rise above water!
This fantastic experience just keeps getting better as you head towards Garrafon Natural Reef Park, where you get to perform the most fun aquatic activities and more. Get awed as you practice snorkel and watch beautiful coral reefs, or if you prefer it, practice kayak to keep enjoying the landscapes and the weather. There is also the exciting experience of sliding down a unique zip line, one of the few above the Caribbean Sea.
Since you chose the most exclusive experience, you also get to enjoy other amenities in the park such as our relaxing temazcal and our VIP area, where you can find lounge chairs and hammocks, as well as a refreshing infinity pool. You also have access to our restaurant to enjoy our exquisite buffet menu and international open bar.

What is included?
Ferry CUN-IM-CUN
(If you are staying in Puerto Juarez, please contact our Call Center).
15 min. of briefing.
60 min. in the water.
Access to Garrafon Natural Reef Park.
Access to Punta Sur.
Amenities: lockers, life jackets showers, lounge chairs, towels.
Buffet lunch and international open bar.
Unlimited zip line ride, snorkel equipment, kayak, and temazcal (if available) at Garrafon Natural Reef Park.
Vip Lounge (infinity pool, lounge chairs, and hammocks).

NOT INCLUDED
Dock fee of 13 USD payable at check-in.
Children over 3.3 ft pay dock fee.
Ground transportation $16.00 USD.
Photos of your experience with the dolphins and in the zip lines.
Other activities in Cancun or Isla Mujeres.

Share your Experience
This activity has not been ranked yet. Be the first to share your experience.

Add a Review Now!

Prices
Adult Royal Garrafon Vip + Dolphin Royal Swim (13 - 99 years)
Child Royal Garrafon Vip + Dolphin Royal Swim (6 - 12 years)
Meeting Points
location_searchingMarina Aquatours Marina AquatoursIn front of Playa Tortugas Blvd. Kukulkan km 6.5 Cancun
location_searchingAt your hotel
Notes
**currently, we are NOT accepting US dollars in cash at our facilities (check-in, restaurant, boutique, and photos), however, we accept Mexican pesos in cash. If you want to use an international credit or debit card, payments will be done in Mexican or US currency.
**Don't include infants under 3.3 ft in your reservation as they are free of charge; however, be sure to add them in the comments section of your reservation.
All participants must be at least 3.9 to perform the snorkel activities.
Restrictions
Children over 4.6 ft will be allowed to participate alone in any of our dolphin programs by paying the adult rate.
To participate in the Swim Adventure or Royal Swim programs, children over 3.9 ft up to 4.6 ft must be accompanied by a paying adult (1 adult per kid).
To participate in the Swim Adventure or Royal Swim programs, children over 3.3 ft and up to 3.9 ft must be accompanied by two paying adults (2 adults per kid).
Children under 3.3 ft will be considered infants and will perform Encounter activities regardless of the program in which they participate (it is a requirement that they fit the vest).
For security reasons, the use of cameras in the water is prohibited. Professional photos will be available for sale.
In this program at Isla Mujeres, the maximum number of people per group is 10 to ensure a better experience.
The use of life jackets is mandatory in all water programs.?
Recommendations
Bring towels and cash for taxis, shopping, meals, etc.
For safety reasons, expectant mothers of 5 months or more can't participate in any of our aquatic programs. However, expectant mothers of less than 5 months can only participate in the Encounter program if accompanied by another adult and after signing a waiver.
If you have any health or physical problem, please contact our call center before booking your reservation so we can provide you with full information about our services.
It is important to arrive 30 minutes before your program, remember you'll receive a short briefing before your swim.
Remember to use biodegradable sunscreen to protect your skin, the environment, and marine species.